Product Description
Radi-Chip for iPhones 7+, 8+, All 10 models, All 11models All 12 models, All 13 models, All iPhone14 models, All

iPhone 15

models – Reduces SAR by up to 99.2%*
Adheres to the back of the Phone and will fit inside almost any mobile phone case**
User Instructions
Click to download user instructions
The Technology: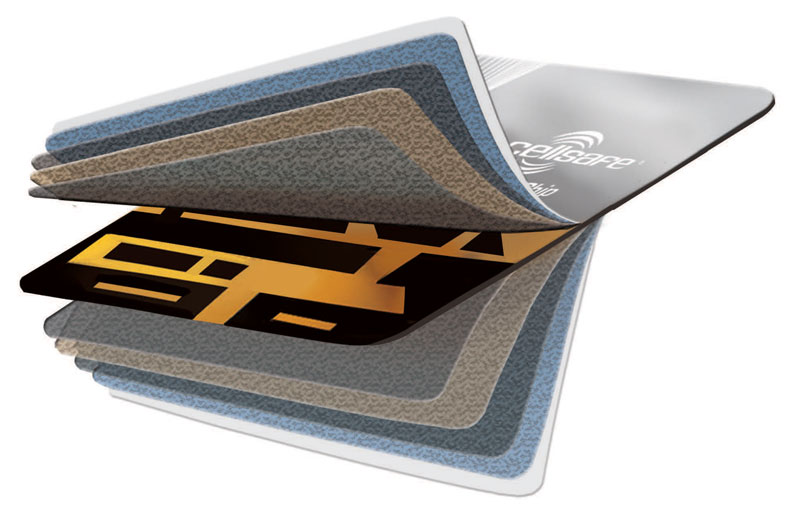 The Cellsafe® Radi Chip™ patent pending technology consists of multiple layeres of specially formulated microwave absorbing materials, combined with a specially engineered passive inductive directional RF coupler.  These layers absorb most of the transmitted RF signal from the mobile phones antenna while the RF coupler controls and disperses the signal towards the back of the phone.  Devices which claim to act as 'shields' may significantly interfere with the normal operation of the phone. Reduced or redirected transmission levels caused by such shielding products can interfere with call reception and quality and may also cause calls to drop out. The Radi Chip technology has been scientifically tested and proven not to interfere with the transmission signal or with call reception, unlike these 'shielding' devices.
The process:
These layers are sprayed in a form of micro sized particles.
The composition is adjusted perfectly to absorb the maximum and equal signal power for the range of transmitted frequency bands from the phones antenna/s.
These layers and our specially designed passive inductive directional RF coupler, act to disperse the majority of the signal absorbed towards the back of the phone.
Conclusion:
All of this is designed to achieve a better result than just keeping the phone away from users head or body (as recommended by the manufacturers).
The Cellsafe® technology reduces SAR (Specific Absorption Rate) up to 87.2%* and will not interfere with transmission signal or call reception. Now you can experience the peace of mind of Cellsafe®'s scientifically proven mobile phone radiation reducing technology in a whole new way. Enjoy the freedom to choose your own mobile phone case*.
This discreet chip is placed on the back of your phone and at just 0.35mm is thin enough to allow fitting of any mobile phone case over the top.
The Radi Chip™ can also be used on your mobile phone without a case. Proven to reduce your exposure to SAR by up to 87.2%*
* Refer to test results page for individual results according to phone model and frequency band. Available in several versions for mobile phones, one for iPhone 5,5S & SE one for iPhone 6, 6+, 6S, 6S+, one for iPhone 7, one for iPhone 7 Plus, one for Samsung Galaxy S6/S6 Edge, S6 Edge Plus, One for Samsung Galaxy S7, S7 Edge, S8, S8+, OPPO, HUAWEI & one for other Android & Windows Smart phones (eg: Samsung up to S5, HTC, Nokia & Blackberry).