Product Description
Proven to reduce exposure to SAR (Specific Absorption Rate) by up to 65%*
Radi-Chips TM are suitable for all iPads, dual chips adhere to the back of the iPad and at just 0.35mm thin, will fit inside almost any iPad case**
User Instructions
Click to download user instructions
The Technology: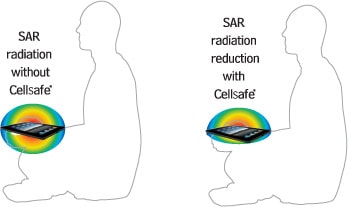 The Cellsafe® Radi Chip™ patent pending technology consists of multiple layers of specially formulated microwave absorbing materials, combined with a specially engineered passive RF directional coupler. These layers absorb most of the transmitted RF signal from the iPads phones antennas while the RF directional coupler controls and disperses the signal towards the front of the iPad.
The iPad chip works as a mirror effect: The iPad antenna sends the signal 360 degrees, when applying the Radi-ChipTM the signal which would have gone to the back of the iPad is then redirected to the front of the device. Much like a light beam directed towards a mirror reflects the light back.
The process:
(Image is for illustration purposes only)
These layers are sprayed in a form of micro sized particles done by specially designed equipment.
The composition is adjusted perfectly to absorb the maximum and equal signal power for the range of transmitted frequency bands from the iPads antenna/s, both cellular (3G / 4G) and Wi-Fi.
These layers and our specially designed passive RF directional coupler disperse the majority of the signal absorbed towards the front of the iPad.
Conclusion:
All of this is designed to minimise your exposure to radiation as recommended by the manufacturers who advise you to keep the device away from your body.
The Cellsafe® technology reduces SAR (Specific Absorption Rate) up to 65%* (for Wi-Fi – bottom chips) & 87.8%* (3G / 4G – Top Chips) will not interfere with transmission signal. Now you can experience the peace of mind of Cellsafe®'s scientifically proven radiation reducing technology in a whole new way. Enjoy the freedom to choose your own iPad case*.
These discreet chips are placed on the back of your iPad and at just 0.35mm are thin enough to allow fitting of any iPad case over the top.
The Radi Chip™ can also be used on your iPad without a case.
* Refer to test results page for individual results according to phone model and frequency band. Available in several versions for mobile phones, one for iPhone
5,5S & SE one for iPhone 6, 6+, 6S, 6S+, one for iPhone 7, one for iPhone 7 Plus, one for Samsung Galaxy S6/S6 Edge, S6 Edge Plus, one for Samsung Galaxy S7, S7 Edge, S8, S8+, OPPO, HUAWEI & one for other Android & Windows Smart phones (eg: Samsung up to S5, HTC, Nokia & Blackberry).
** Not suitable for use if the mobile phone is placed inside a protective case (or is used with other accessories) which are made of aluminium or any other type of metal as this may affect the performance of the product.