Product Description
When Your Loved Ones Need You The Most. Peace of Mind Emergency Personal SOS GPS Tracker Pendant That Works Anywhere With No Monitoring Fees.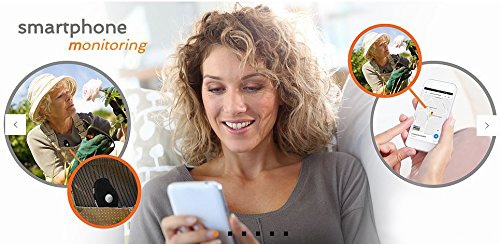 KEY FEATURES
Calls up to 5 people with the press of one button
2 way voice conversation
Personal GPS Tracker with location request.  Text command to the pendant and it will reply with a Google Maps link giving the location of the tracker in real time.
ALDI Mobile (Telstra) $5.00 SIM card supplied & installed.
When the SOS button is pressed it immediately sends a GPS location to the first emergency contact & starts calling up to 5 people even 000
Speakerphone & microphone built in
Automatic fall detection
Showerproof
No monthly monitoring fees
Ideal for seniors and children
 Dimensions 61mm x 43mm x 16mm (40 grams)
With the SOS Mobile Alarm you can go anywhere knowing help is just the press of a button away. It is perfect for people who want to feel safe everywhere – not just at home. There is no need to have a mobile phone. The SOS alarm is a simple to use device which connects to Telstra's mobile network and has an ALDI Mobile SIM card supplied and already installed. With built in GPS tracking the device calls up to 5 of your emergency contacts, you can even set '000' as a contact. The device will also simultaneously send an SMS to the first emergency contact showing the wearers location on Google Maps (accurate to within 10 metres).
When one of the emergency contacts answers, the wearer is then able to talk hands free through the device. You can even call the mobile number of the device and it will answer in speakerphone mode.
Additional Features:
Works wherever there is Telstra 3G mobile coverage (98.5% of Australia).
Calls up to 5 friends or family (can call 000) until someone answers.
2-way "hands-free" voice communication with high quality, easy to hear audio.
Automatic fall detection. Sends "fall alert" text with location to the first emergency contact & calls up to 5 contacts.
Uses GPS and Google maps to send your location to your primary contact immediately.
Family & friends can call the device.
Device can call out to nominated contacts.
Device is shower & rain proof, and weighs just 40grams.
Price includes ALDI Mobile (Telstra) $5.00 SIM card (or can be used with other mobile service providers using the Telstra) network.
No contracts or monitoring fees.
12 month warranty.
Long battery life 3-7 days in normal mode
Comes with free lanyard, pouch, keyring holder, charge cradle & charge cable.
Supports 850 / 1900 MHz
Note: This model does not have voicemail recognition.  If the primary emergency contact does not answer the call and the call goes to voicemail, the alarm will consider this call to have been 'answered' and will not move on through the rest of the contacts.  If your emergency contacts have voicemail, you should consider the 4G model instead.